World News
US president begins first official trip
US President Donald Trump arrived to a massive public reception after he landed in India's Gujarat state for his first official visit.
India's Prime Minister Narendra Modi (left) embraces US President Donald Trump upon his arrival at Sardar Vallabhbhai Patel International Airport on 24 February, 2020. Photo: Mandel Ngan / AFP
Trump was welcomed at the airport by Prime Minister Narendra Modi who enveloped him in a bear hug soon after he landed.
Trump's visit will focus on deepening ties between the world's two largest democracies.
The two leaders are now at the Sabarmati Ashram, where Mahatma Gandhi lived for 13 years.
Trump and First Lady Melania Trump tried their hand at a traditional Charka or spinning wheel, popularised by Gandhi as a form of protest against foreign-made cloth.
Thousands of Indians lined the road, straining to get a glimpse of the two leaders.
Billboards along the route are emblazoned with pictures of the men and carry slogans such as "two dynamic personalities, one momentous occasion".
After his trip to the ashram, Trump will travel to the Motera stadium, billed as the world's largest cricket venue. The two leaders are expected to address more than 100,000 people there. The event is being compared to the "Howdy, Modi!" rally they held in Houston last year which was attended by 50,000 people.
The road show, which is along the route to the stadium, will feature performers from across the country, showcasing the arts from different Indian states.
"I look forward to being with the people of India. We are going to have many millions and millions of people. It's a long trip. I get along very well with Prime Minister Modi. He is a friend of mine," Trump said ahead of his trip.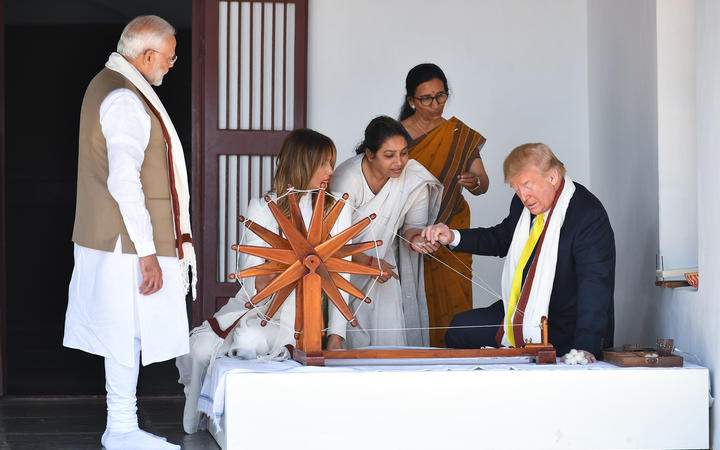 "I had committed to this trip a long time ago. I look forward to it. I hear it's going to be a big event… the biggest event they ever had in India."
But amid the fanfare, a much-talked about trade deal is unlikely to happen during the visit.